Cooking is like art in a way, where you get to play around with different flavors, textures, and smells. That's where the spices come in. In many cases, the dish just isn't the same without that extra pinch of basil or oregano, and let's not forget that extra piquant flavor from some chilli pepper.
We all love spices, they make any dish that much more enjoyable, so it's not surprising that those of us who love to cook usually have a cupboard full of spices. That's where the sorting and organizing problem comes. When you cook you can't waste time going through all the containers full of spices, so having them neatly organized and at reach at all times makes cooking that much easier.
There are plenty of ways to organize your spices, and if you're looking for beauty as well as order without taking up too much space, you might want to check out our list of clever DIY spice racks.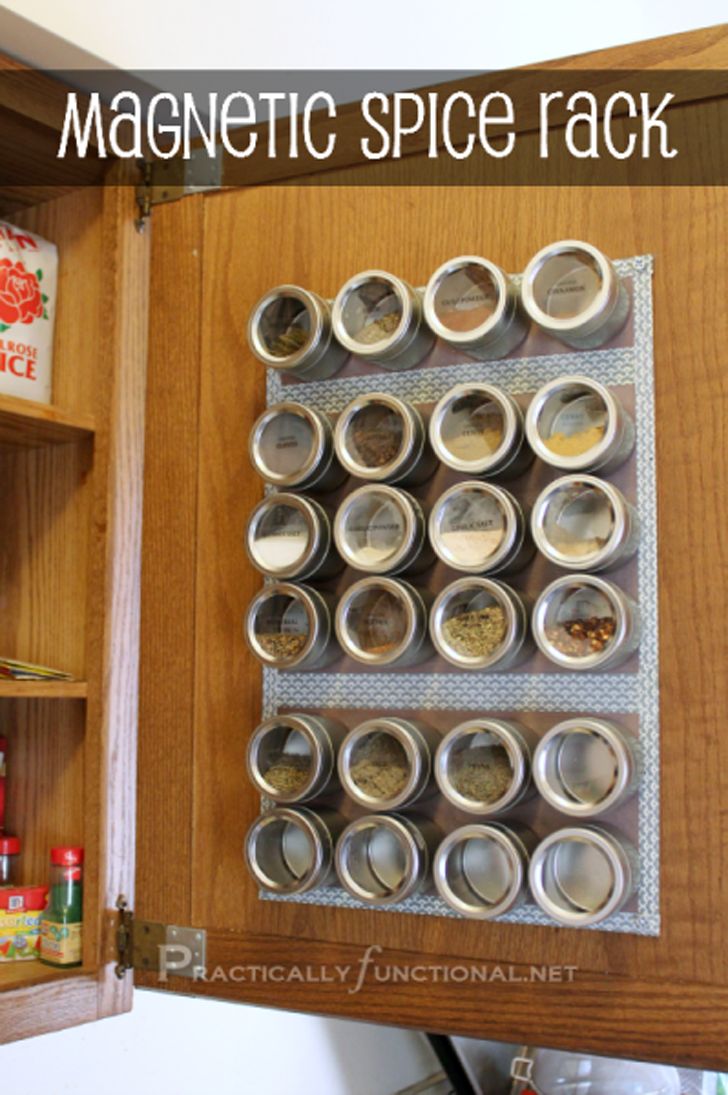 You will see several spice rack projects in our list using magnets since they're so convenient, and we start with this one that is reachable and out of sight at the same time. It is a very clever design that will free up much of your cupboard space while keeping your spices fully in view and in reach once you open the cupboard door.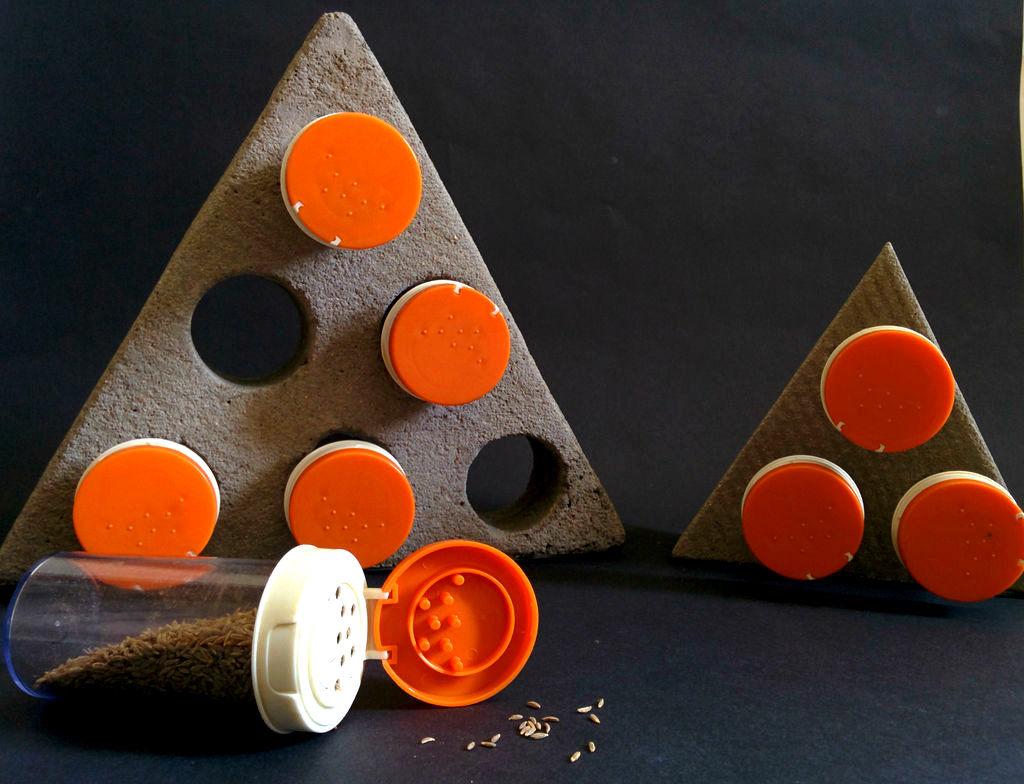 For the bit more artistic and crafty types, here is a spice rack that can serve as an organizer and decor piece as well. It's a fun project to make if you like concrete crafts and it will take a bit of effort to make, however, you will end up with a very lovely and durable spice rack for your kitchen.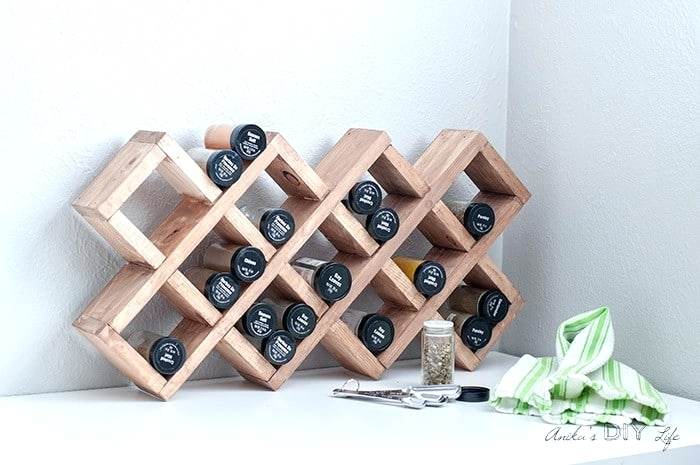 This one is a quite lovely and multi-purpose spice rack. Made from scrap wood, you can hang it on the wall or put it on your kitchen counter without taking up too much space and it can hold quite a lot of spices. And if it's too big for your spice collection, you can use it for storing other items, like your crafting tools, paint tubes or whatever you fancy.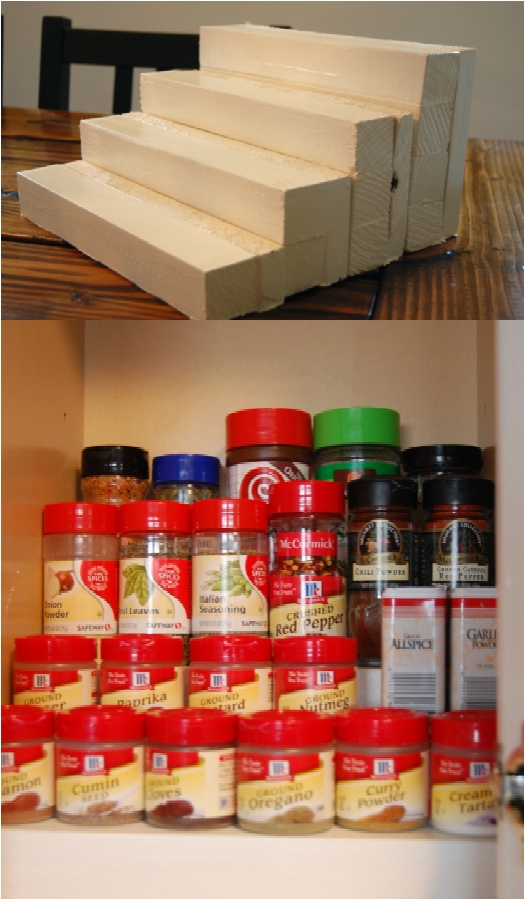 This step rack is quite straightforward, simple and elegant in its design if you want to keep your spices in the cupboard. It's not quite space-saving, but by stacking them neatly on each step it gives you a better overview of the spices without having to pick up and read the bottles at the back of the cupboard.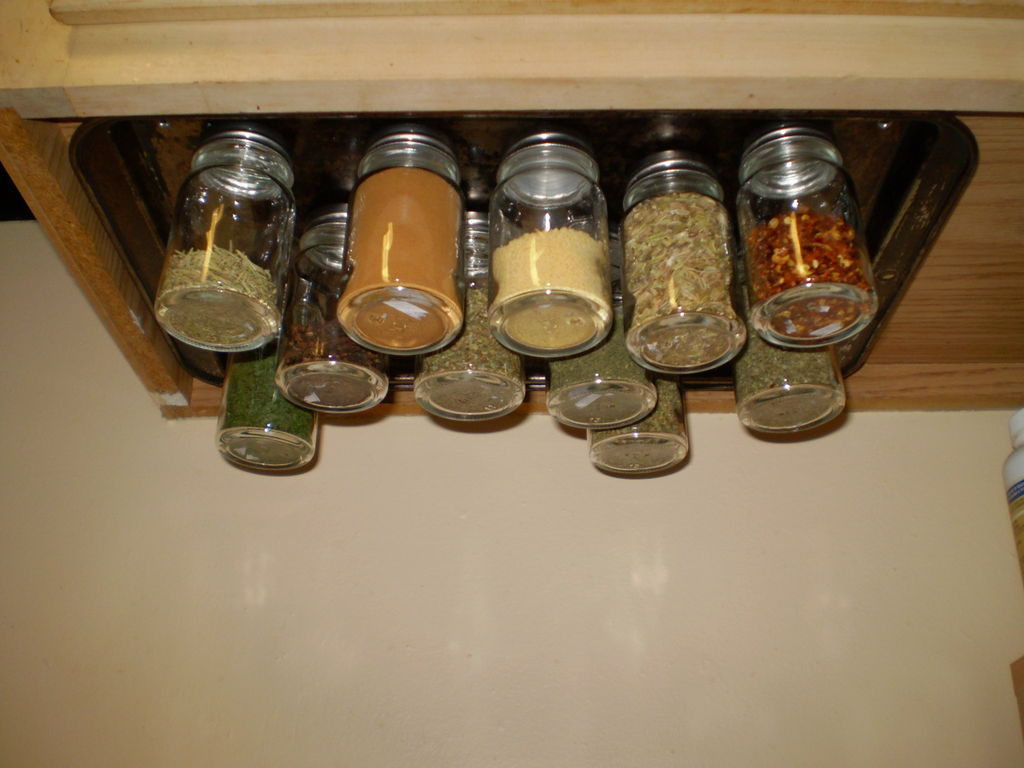 As we mentioned, spices should be reachable while cooking, so for those with stoves that may be a bit further from the cupboards or working table, this is a nice solution. Secure a metallic plate near or over the stove and put some magnets on your spice bottles and they will always be in reach.
For those who like giving a second life to old things, this is a nice project to try. With one simple adjustment, namely putting one wood piece of shelve in the middle of an old serving tray you can get this vintage looking silver spice rack.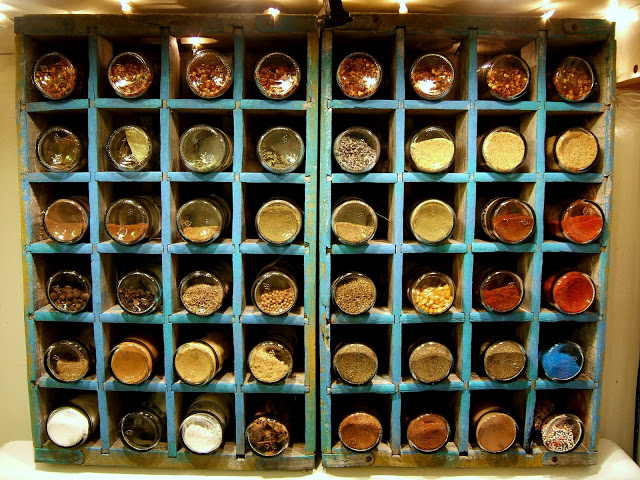 Thrifters will love this project. If you happen to stumble upon on old-school wooden bottle crate, take it an use it. With a bit of paint and placed upright you have an instant sectioned and well-organized spice rack.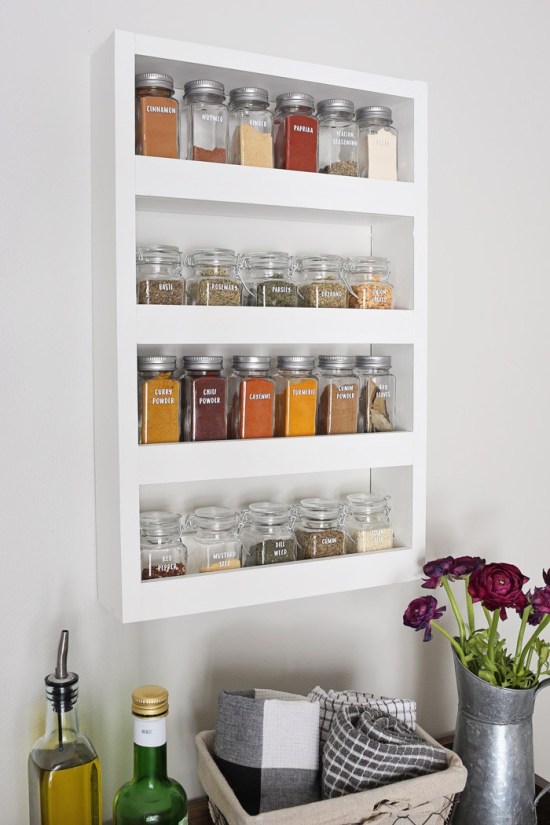 This one is more of a classic looking spice rack and those of us who love to build things from wood will love it. It is easier to make than you'd think, and it will fit in any kitchen nicely giving it a nice clean look.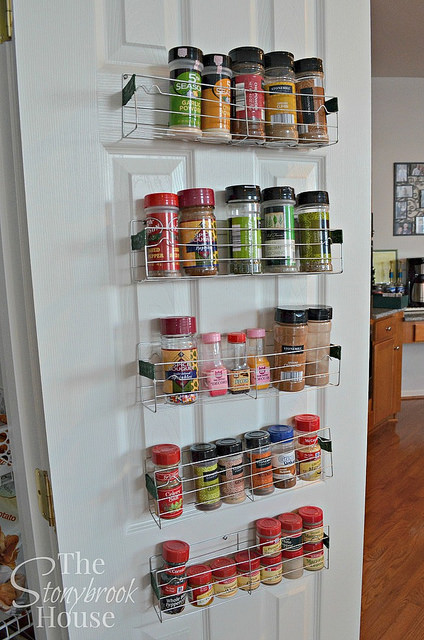 Dollar stores are real treasure troves if you know what to look for and how to use it. Here you'll see a fine example of a simple upgrade project, turning a cooling rack into a door hanging spice rack. All you need is some long nose pliers and a steady hand.
All your spices may fit into a single tray, so a spice rack isn't really what you need, but a lazy susan will definitely come in handy. Instead of going out and getting one, here's a more affordable alternative. Just take some marbles and two pans that fit one into the other, and you have yourself a homemade lazy susan.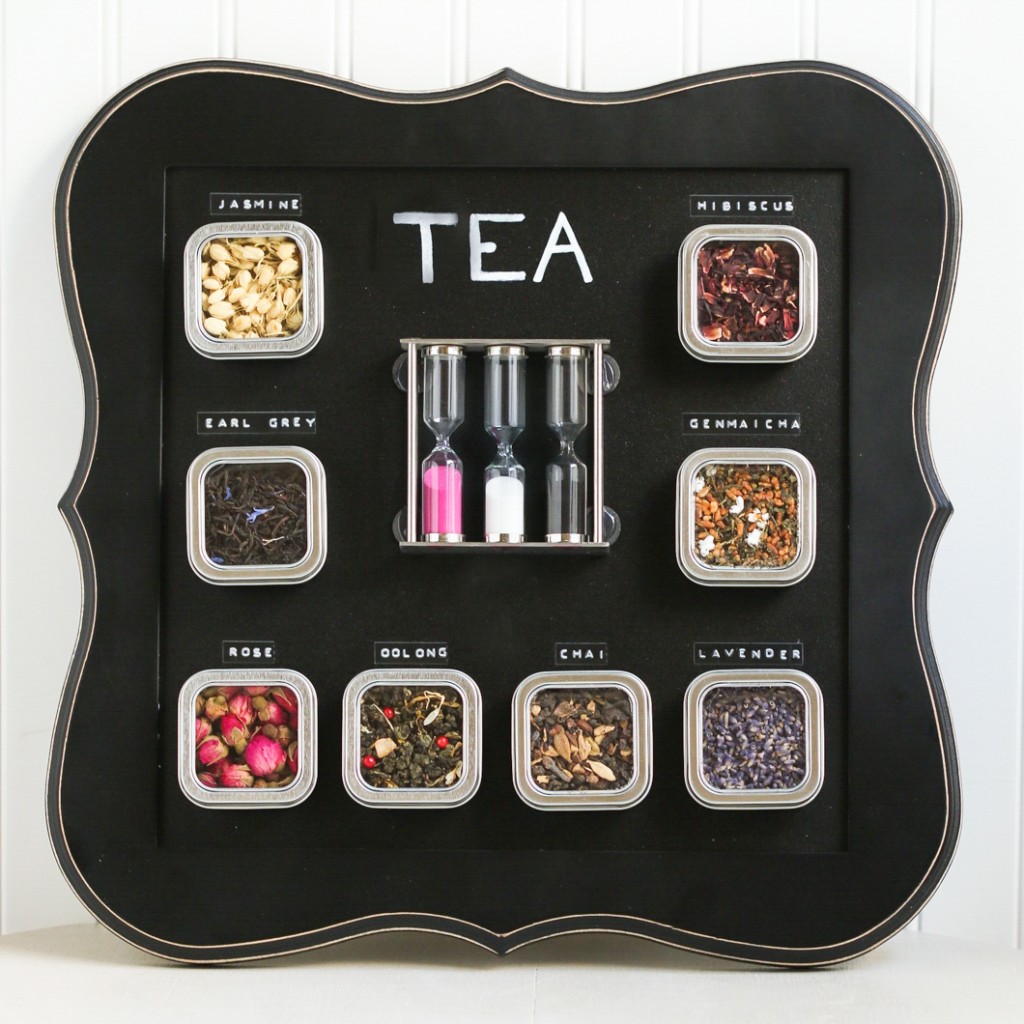 Another magnetic board project that is very easy to make looks amazing is very practical and space-saving, and probably the best feature, it's compact enough to serve as an excellent gift. Try it, your friends will love it.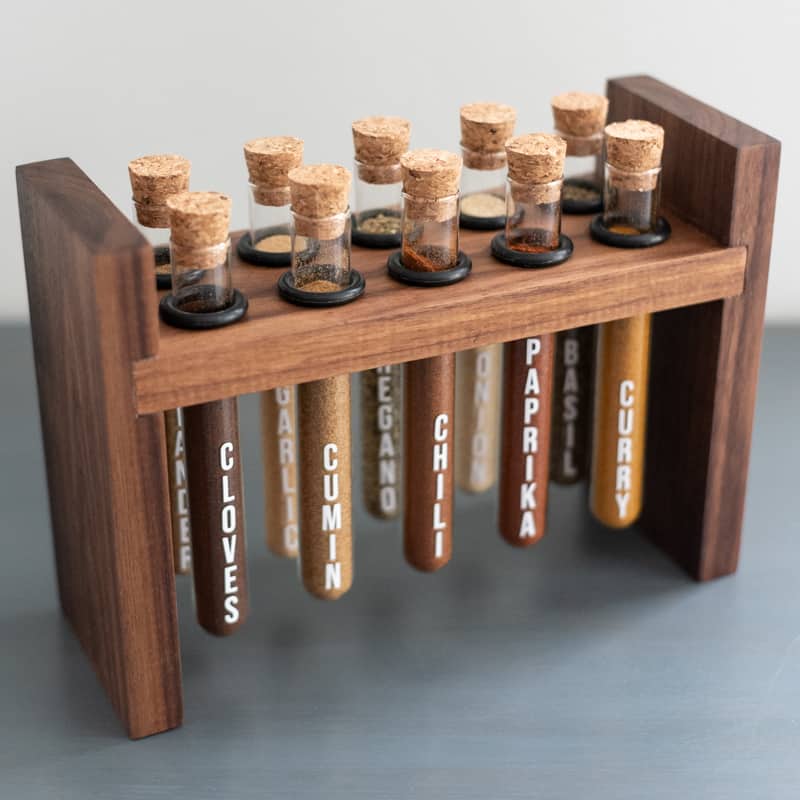 Many people say that a large part of cooking is experimenting, with ingredients and spices as your items to mix in your culinary experiments. Going with the scientific theme, you'll want this interesting test-tube spice rack.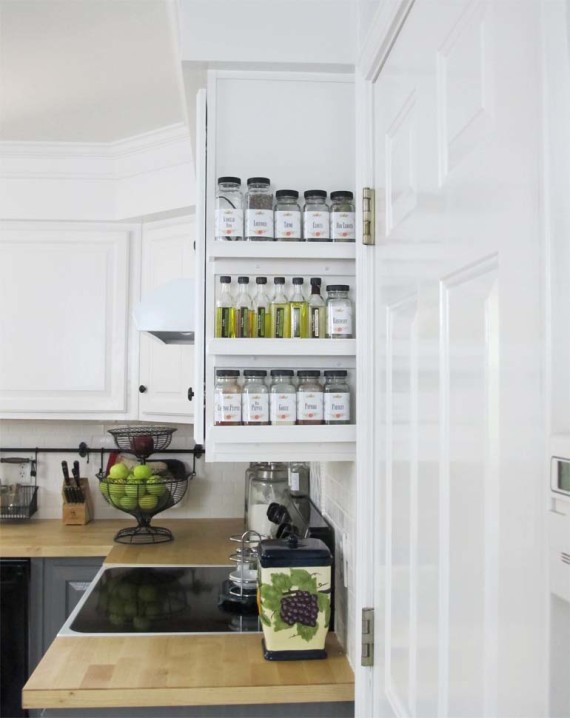 There is always some empty space that can be put to good use if you only know how. If the side of your kitchen cupboards isn't right next to a wall, then you already have the space for your new spice rack. Place a few shelves up there and you're done.
According to Pallets Toronto services,pallets are truly the ultimate building material for upgraders and recyclers. With one search you can find hundreds of ways to repurpose them, so this list wouldn't be complete without putting at least one project using old pallets.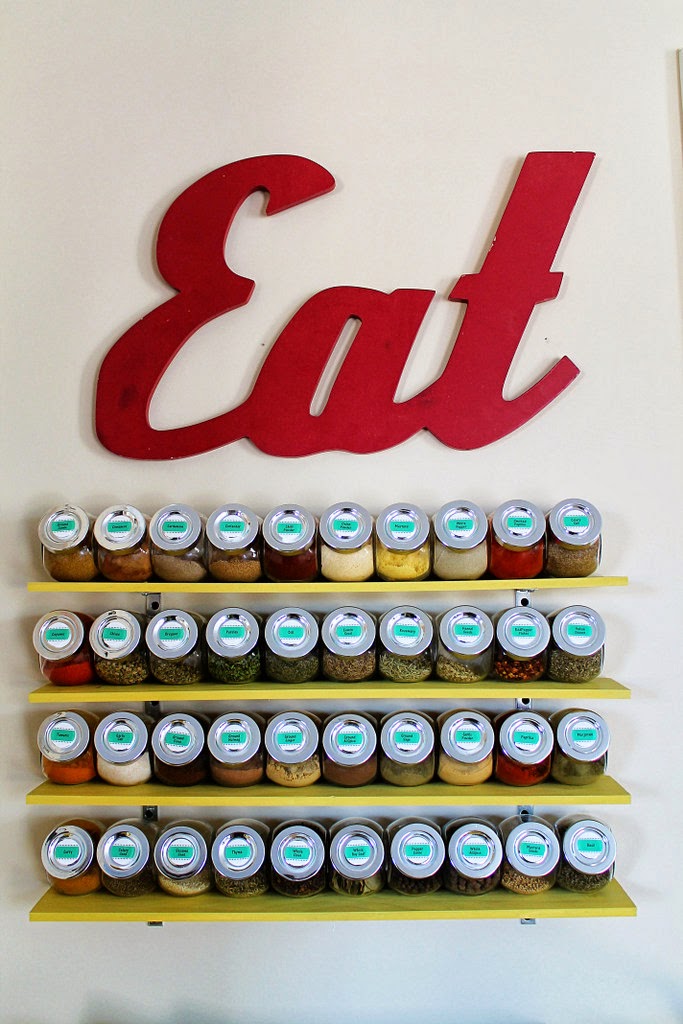 Our last spice rack project is pretty straightforward, just a few painted pine planks mounted on the wall. But what's nice about it is that shows how you can make it look nicer than it really is. By storing the spices in identical containers, and adding a fun colorful banner atop the shelves, your kitchen will look neater and more artistic and warm.
That's all the spice rack projects we found for you for now. We hope you too found what you were looking for or that our list at least helped you get an idea of what you want for organizing your spices. We'll look forward to hearing your thoughts in the comments.