As we age, shopping for clothes can become an  increasingly daunting task. Spending a day at the mall can drain you of every ounce of energy. Not to mention, most fashion brands and stores are aimed at younger generations who are looking for the latest trends. Much like seeking maternity clothes, as we age, it's hard to come across clothing that is not just stylish but able to fit the needs of seniors with limited mobility.
Style aside, getting dressed becomes more difficult. Getting out of a nightgown or lounge pants and into a sweater or slacks can be a real chore, especially when you have to coordinate other items such as catheters, IV bottles and more. In this article, we explore why shopping for clothes gets more difficult as we age. But more so, we introduce some handy features of senior clothing brands that make dressing so much easier.
Limited Mobility Issues and Age-Related Conditions
Limited mobility makes shopping for clothing complicated, to say the least. And it's not just about walking around stores. Mobility issues and age-related conditions can range from Alzheimer's to arthritis, which restricts the ability to do common, everyday tasks and turns them into a bigger production. Luckily, there are many types of adaptive clothing that make dressing easier. When shopping for clothes, seek out adaptive features that allow for something like arthritic hands to operate the clothing efficiently. Consider using Velcro closures instead of those aggravatingly small buttons or choose Velcro shoes for women to eliminate shoelaces that are hard to tie. You could also choose tops that open in the back, allowing the piece to be walked into instead of slipping over the head and arms.
Luckily, most adaptive clothing can be found through online shops. And since mobility issues can restrict how you move about out of the house, or simply make for a long, tiring day, online adaptive clothing stores can be a real advantage and a silver lining, making shopping easier. Just make sure that you choose a shop with easy returns if a garment doesn't work out!
A Lack of Stylish Clothing Options for Seniors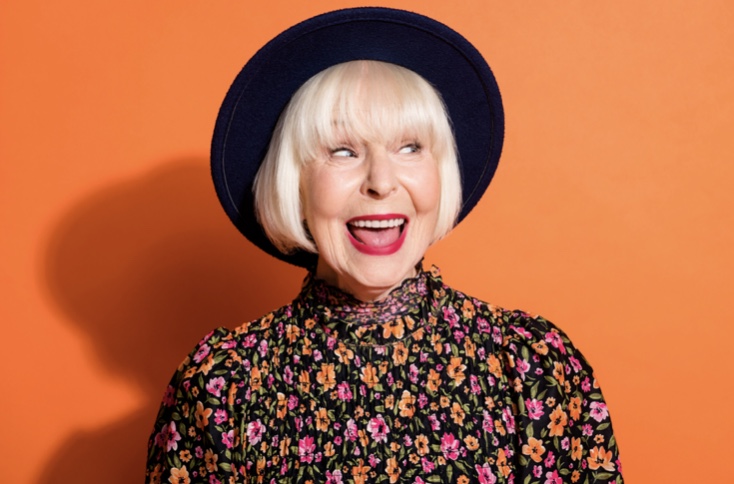 Source: Roman Samborskyi/Shutterstock.com
Another primary reason shopping for clothing gets more difficult as we age is simply due to the lack of stylish options. There is a misconception that as we get older we no longer have preferences in color, fabric materials and even cuts. When really that is not the case, seniors still enjoy looking their best and dressing to personal tastes. However, you end up going from store to store or website to website in search of something you find appealing, only to find dull, outdated-looking fashion styles, it can become discouraging and even affect confidence levels and self-esteem.
Furthermore, as you age, it is  likely that we will require adaptable clothing to maintain our sense of independence. As a whole, adaptive clothing should be practical and versatile in style, but also washable and durable. When it comes to adaptive clothing, the adaptation features should be invisible, blending into the ensemble or footwear seamlessly without looking distracting to the overall style. In other words, Velcro should replace shoelaces but offer the same securing function. In addition, many seniors and aging people have difficulty with zippers and buttons. Jackets with a magnetic zip front and longer pull-tab can come in handy while still looking like a regular jacket.
Unfortunately, there are far too many stale and uninteresting senior fashion brands out there trying to cater to older generations. However, the "silver economy" has arrived and, with it, the spending power of seniors. Today, seniors desire more flair and style to maintain their youth and they deserve it Seniors and people 50 years and older have the money to get what they want — if only brands and adaptive wear manufacturers would realize and catch up to their demands!
How to Make Shopping Easier
Luckily, some senior clothing brands are in tune with these desires. For example, you can find senior clothing brands that make fashion lines and garments from soft, comfortable and sometimes even luxe materials. You can find adaptive wear and garments made out of fleece, corduroys, knits and even faux fur. And while they're not clothing, you can even find canes and walking sticks with silver and bronze handles or wraps printed with a floral motif to add a stylish touch.
If you are clothes shopping for yourself or a senior-aged loved one, there are many ways you can reflect your personal tastes and style. For instance, seek out more solids and steer away from printed, trendy patterns that can become dated in just a few years. Dressing in solid colors can give off a capsule wardrobe vibe that looks effortlessly chic. Whether you stick to neutrals or dress in your favorite color is up to you.
Another tip is to shop for clothing that offers subtle attention to detail. Many senior clothing brands offer tops with updated necklines as well as shoulder trims and cuts that make the garment appear more on-trend and current. This way, seniors and people who are 50 and climbing can still look stylish, even when they have a disability or mobility issue that requires adaptive clothes or merely to be more mindful about what they purchase.
If you are shopping for a family member or someone else, make sure to take notice of the person's taste in style and color. Maybe even ask them what their favorite shirts and pants are. If they wear them frequently, ask if they fit comfortably. You might be surprised by the response they give. If you are more adept with technology, search online with them and have them tell you precisely what they like (or despise) about clothes, too. If you are shopping online, don't forget to check sites like Raise (https://www.raise.com/coupons/kohls) to see if there are any coupons or codes going with stores you like to shop in that can help save you some money on your next purchases.
Fashion's Next Generation
Fashion's next generation of seniors 60 years and older is even being called the "Greynnaisance." Today, there are even fashion brands enlisting older social media influencers to entice the baby boomer generation into buying their clothes to look more young and hip.
As the baby boomer generation becomes older, there is a growing demand for fashionable clothing, but also garments that are adaptive as well. While shopping for clothes gets more difficult as we age, many brands have taken cues from the senior generation to create stylish, practical and even adaptive garments, providing the best of all worlds.