Whan of the more tedious tasks when seasons change is the wardrobe change that comes with it. Time to open up the wardrobe and put away all the warm and cozy clothes. For most of us, this is also the chance to do a bit of wardrobe selection, setting aside all the clothes we will definitely not be wearing next year to throw or give away.
Before you say goodbye to your old favorite sweater, think about giving it a new life as something fun and useful. We've all seen plenty of refashioning tutorials for old clothes, but those are simply turning one type of clothes into others.
Those are pretty useful, so we couldn't fail to include some such tutorials in our list, But as you will see, there are many other ways to transform your old sweaters, that will be useful all year round.
Check out 13 ways to transform your old sweaters.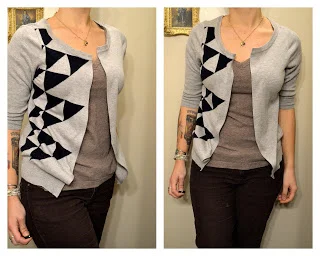 Starting with an easy refashion tutorial here is how to keep wearing a fine sweater a bit longer, during the chillier spring days. Transform one of your stretched out sweaters into a cozy cardigan, with practically no sewing skills needed.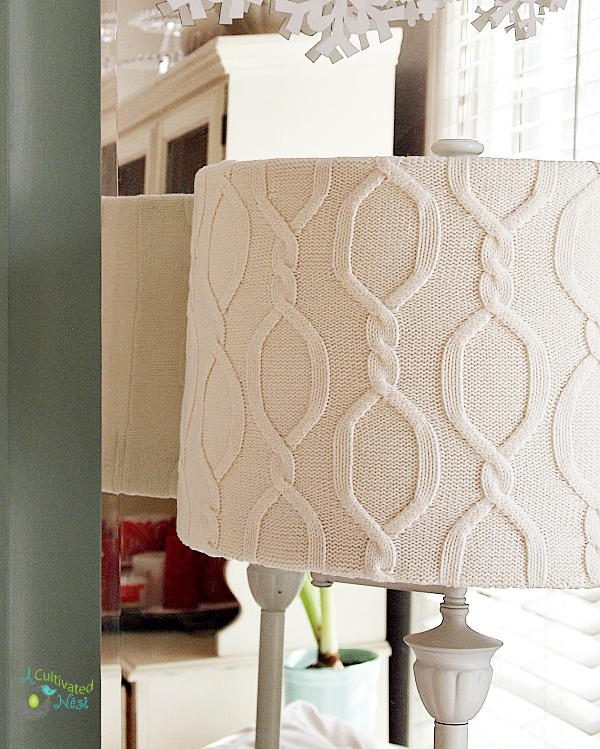 Finding a proper replacement to a lampshade for an old lamp stand can be quite troublesome since they are harder to find these days and can be pricey, as well. There are better ways to give a lampshade a new look, one being with the sweater you were going to throw away. It looks way better than you'd imagine.
Cat owners know very well that cats play with cardboard boxes and like hiding in dark places. Cat caves are the best places for cats to rest, and now you can make one for your cat in just minutes and with two materials: a cardboard box and an old sweater. Your cat will love it.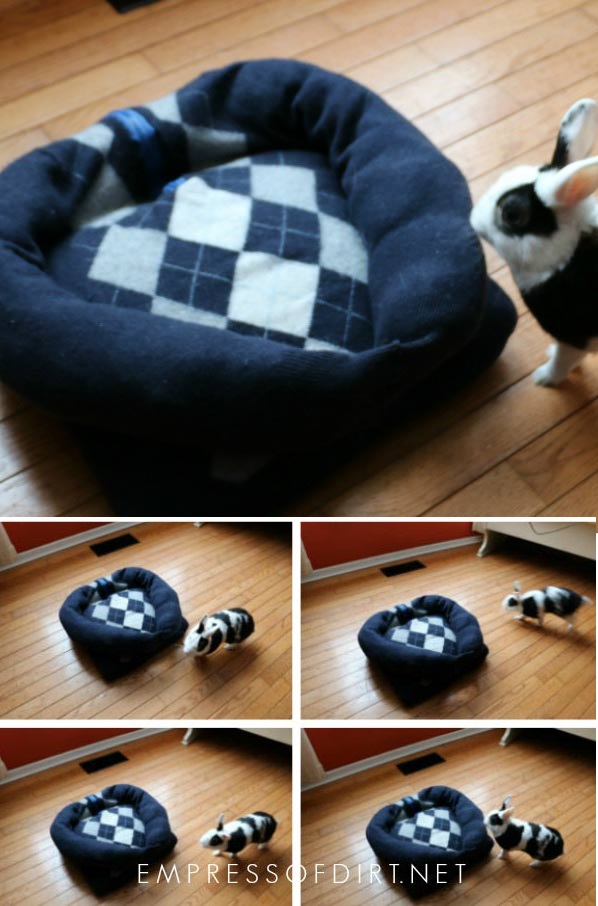 Speaking of pets and where they sleep, if you won a cat, a dog, or even a bunny, now you can make as many pet beds as you like, or as many as the number of old sweaters you have. Either way, your pets will certainly appreciate this soft and warm pet bed.
While we're on the subject of pets, you can't have your little doggie shivering in the cold during your walks. From just one sleeve of your old sweater, you can make your pet the warmest and coolest dog clothing in the park.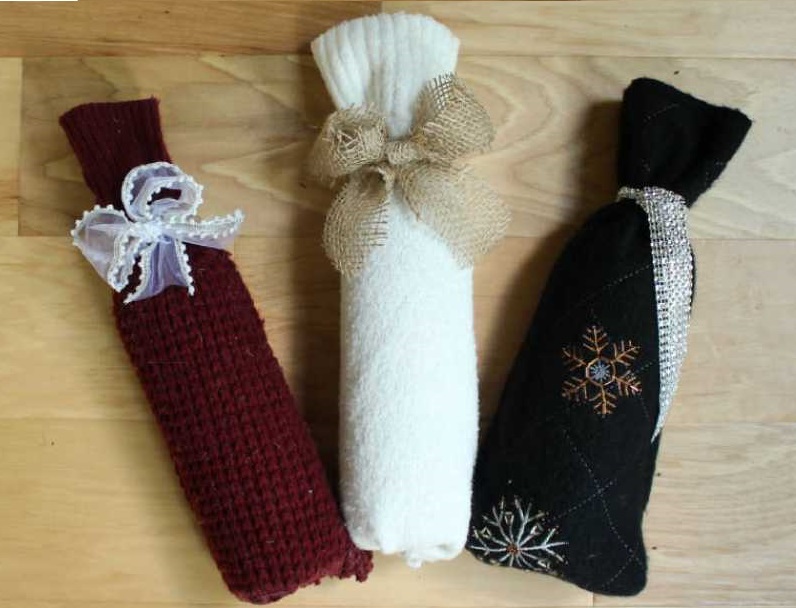 A fine bottle of wine is always a classic and well-appreciated gift, and it must be gifted in equally fancy packaging. Handcrafting at least part of your present is always a nice touch, and this is definitely an easy and fun way to wrap a wine bottle.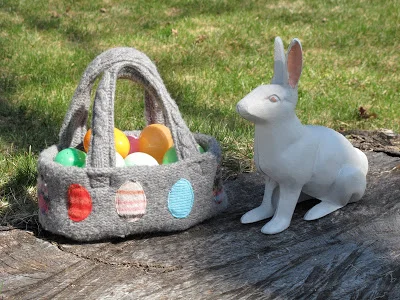 Since Easter is coming, why not add a new piece to your Easter decor? Since you can never have too much Easter egg baskets, here is how to make a lovely new one your family will certainly appreciate.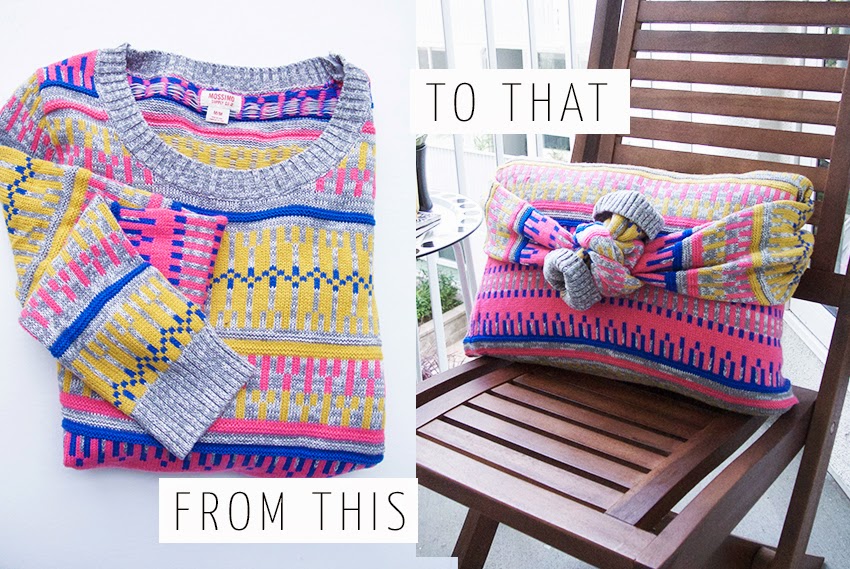 Another thing your home always needs is a colorful pillow to lean on, be it on your sofa or patio chair. Instead of buying different pillowcases, you can simply use your old sweaters, and the best part, no sewing is needed for this sweet project.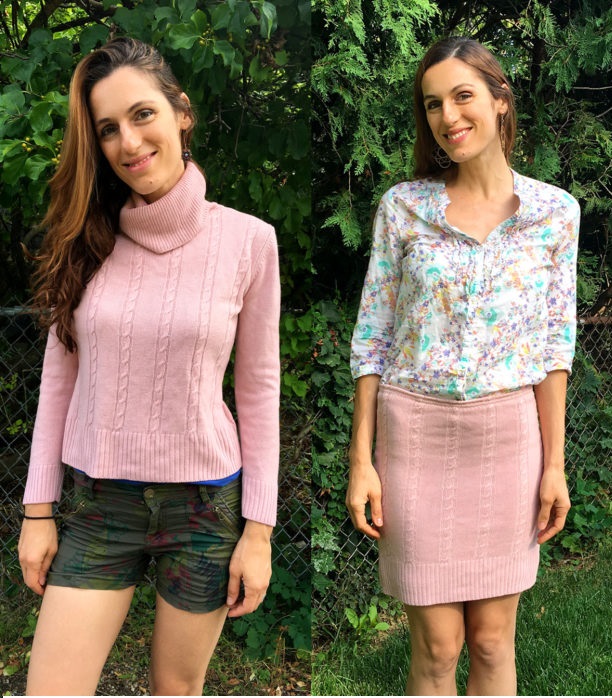 Some of your sweaters may still be good to wear and fashionable but might have gotten a bit too short or shrunken to fit properly. Luckily, with winter over, skirts are in again, and turning that sweater into a new skirt is easier than you think.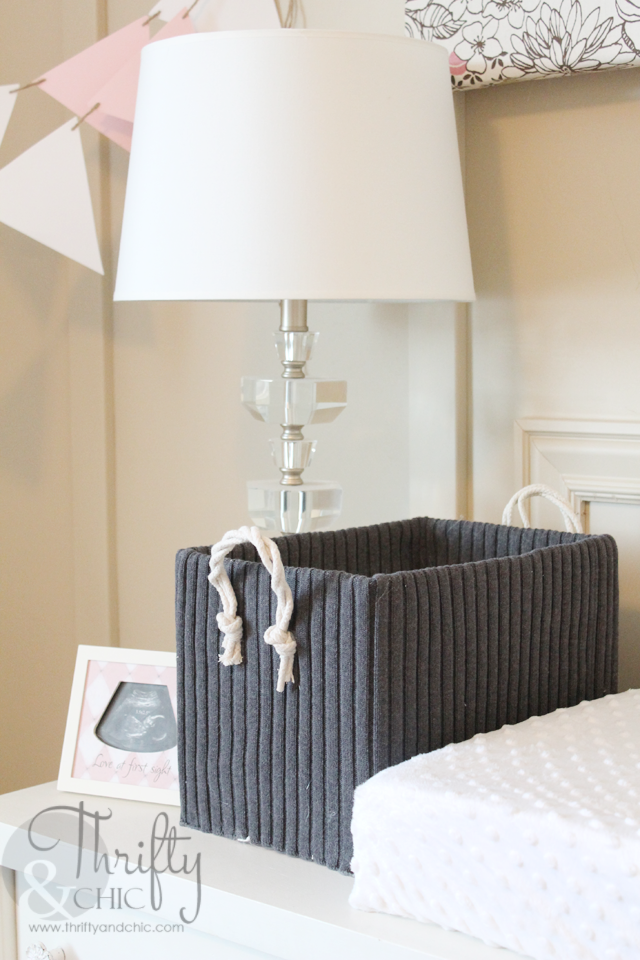 Any plain old box can be used for storage, but that doesn't mean you can spruce it up a bit. You can use different materials to do so, however, if you're looking for something really unique, yet easy, this sweater storage bix may just be what you're looking for.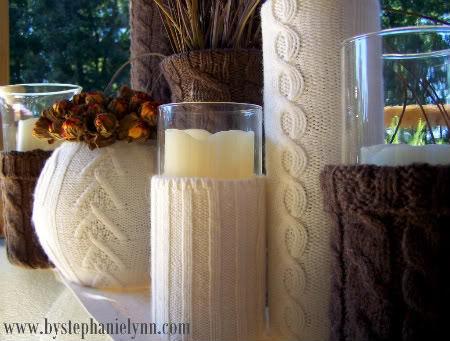 Knitted sweaters have many lovely designs that don't go out of style that easily. We look great on us and they'll look just as nice in your home. Covering a few glass vases or candle holders with sweater sleeves can really give a new feel to your home decor.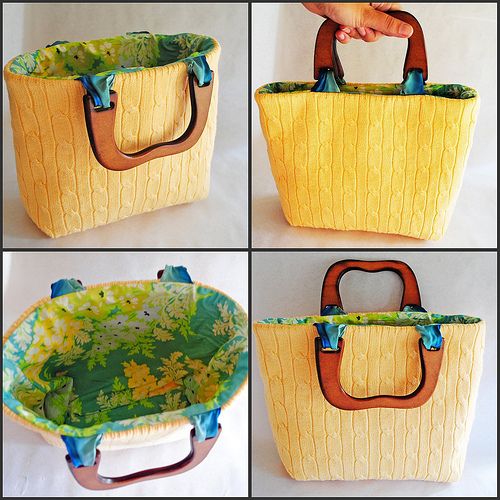 Women love purses and we're always looking for the right one for any occasion. If you're looking for a stylish one that will be your go-to purse for doing your every chores, you should consider making this one.
For our last sweater project, we suggest something a bit more challenging, but definitely worth it. Create the most fab dress for early spring or fall by combining two old sweaters. It looks amazing, and no one will guess it's homemade.
So, what do you think of our list? Hope you'll find some of the projects to your liking, and we'll love to hear your thoughts in the comments.