Today, billions of people use social media to connect with friends, family and fellow industry professionals. While photos, graphics and videos are being shared at a rapid pace, blogs and articles still stand as one of the most trusted and valuable types of online content. Medical providers and patient populations may still be adapting to social media apps, but blogging is a widely-accepted medium in nearly every industry. 
Unlike short-form content, a blog gives the nurse another tool in addition to their stethoscope and lab coat. Blogs help care providers expand on ideas and provide in-depth information about techniques, cases and industry topics. Writing a blog can also help RNs to express themselves when they are not with their patients, all while connecting with fellow nurses. 
Whether you want to start a blog of your own or just want to learn from your colleagues, these established nursing blogs are an excellent place to start. Browse a few articles to see if they educate or inspire. Next, subscribe to a couple of your favorites. While you will gain valuable knowledge and wisdom from reading other perspectives, you will also gather content that you can share with your patients or fellow nursing professionals. 
1. Off the Charts
The American Journal of Nursing's blog Off the Charts is considered one of the best in the industry. While the AJN has been a trusted resource for nurses since the year 1900, this blog is the latest version of a centuries-long series of educational and engaging topics for registered nurses. Read articles straight from the website or subscribe to the newest blogs by email. 
No matter how you choose to read the articles, you will find perspectives that cover all facets of the healthcare world, from mental health and palliative care to giving injections and navigating challenges and telehealth. If you are interested in certain topics, you can search for them by name on the blog's homepage. You can also browse specially curated series and collections of some of the most popular and prevalent works on the website. 
2. The Inspiration Nurse
Healthcare professionals know the power of positivity. Nurses are charged to inspire their patients, but they also need motivation and hope to stay upbeat and energized. The Inspiration Nurse blog, written and managed by Donna Cardillo, MA, RN, FAAP, was designed to help you feel more passionate and powerful in your personal and professional life. 
You are sure to enjoy her light and fun spin on important news and nursing topics, like how to harness the power of social media as a nurse and how to handle tricky issues in the workplace. In addition to these topics, Nurse Donna also shares advice for how to advance your career, ways to improve your mindset while caring for patients and tips for forging a new path in your education or industry. Be sure to read her articles on entrepreneurship, retirement and being a new nurse in an ever-changing world. If you like Donna's blogs, you can sign up for them on her website. You can also stay up-to-date on her articles by following her social media page.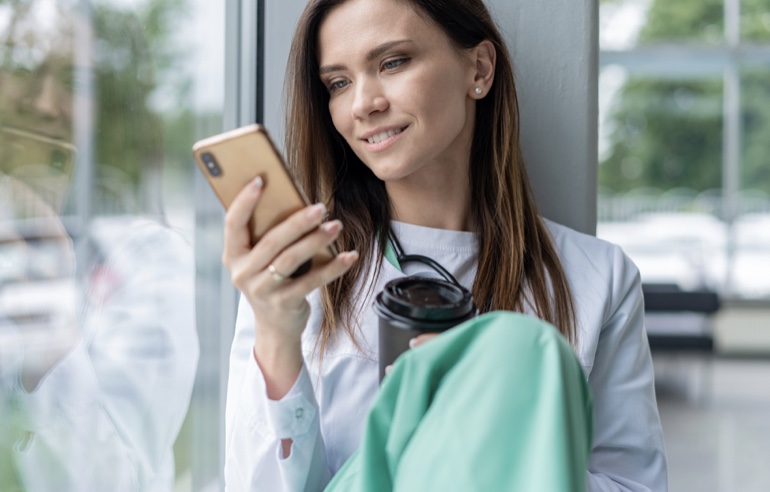 Source: OPOLJA/Shutterstock.com 
3. On the Pulse
Founded in 1876 in Baltimore, Maryland, Johns Hopkins is America's first research university. It was named for American entrepreneur Johns Hopkins and prides itself on its innovations in healthcare and biomedical discovery. Today, John Hopkins Medicine is one of the most respected medical institutions in the world, receiving nearly four million patients annually. Their renowned blog On the Pulse covers the most essential topics in nursing while helping nurses stay on top of trends in patient care and medicine. 
When you read this blog, you will learn more about diversity initiatives in nursing and healthcare forecasts for this year and beyond, as well as hear from medical professionals who are forging new paths in their healthcare journey. Other benefits of subscribing to this blog include candid patient stories, tips for how to advance your career and insights from some of the top doctors across the globe. The online version of the blog provides links to podcasts for nurses and an archive of past articles. You can also access articles from their social media pages. 
4. Minding the Bedside
Nurses are experts at caring for their patients, but self-care is just as essential. If you have a handle on your work but you need tips on how to de-stress, you will benefit from Jerome Stone's RN perspective. His blog, Minding the Bedside, features his insights and wisdom from being a nurse for over 30 years. While caring for patients in their most intense and critical moments, Stone was searching for a healthy and meaningful outlet. He developed a passion for meditation and mindfulness, which he now shares with his fellow nurses. 
Follow his blog for tips on how to provide compassionate care, advice on how to stay positive in challenging times and how to regain peace and focus when your workdays become stressful. In addition to helpful and informative blogs on mindfulness meditation and putting patients first, Stone's website also features videos and audio recordings. Take advantage of this mixed media as you commute, take a lunch break or get ready before work. 
5.
The Gypsy Nurse
Searching for an unconventional perspective? The Gypsy Nurse is sure to open your mind. What started as a blog is now a full-fledged resource website for travel nurses. Navigate to their articles page to dive into a unique world. As you read, you will discover more of what it is like to work as one of these professionals. You will also gather tips and advice if you should want to become a travel nurse yourself. 
Read how to care for yourself when you are on the road, how to improve your remote work environment and how to best manage your professional goals when you are away. Experienced travel nurses share how to find the most lucrative nursing jobs, how to best pack for assignments and the best ways to find comfortable, safe and reliable housing. Other popular topics that benefit all nurses include how to create a winning travel resume and how to visit beautiful destinations while you care for patients. An additional perk is that you can also look for nursing jobs. The website features a job search board, as well as a resources and an events page for networking. 
Learning from Fellow Nurses
On-the-job experience and continuing education will help nurses to forward their careers. Professional blogs will also help RNs to learn more about themselves and others. The next time you are browsing scrubs on sale or reading news in the nursing field, take a few moments to read a nurse's blog. You will be supporting their content and helping yourself to become a better healthcare provider. After a while, you may decide that you can contribute to the nursing world with a blog of your own.